UPCOMING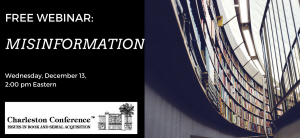 December 13, 2:00 pm Eastern.  This session will address the concept of misinformation – what it is, when it occurs, and how what is misinformation in one context may be good information in another. I will present the status of information as context-dependent, leading to the importance of considering context with sensitivity, empathy, and a critical eye. This session is distinct because it attempts to stretch misinformation from a black and white concept to a larger spectrum. We will briefly examine evidence of the ways information systems exacerbate issues of misinformation. Register now!
Crunch Time: Frameworks to Assess and Improve End of Year Spending
December 20, 2:00 pm Eastern. We all know that stress is a bad condition for decision-making. How can we counteract stress in year-end collections spending? In this presentation, the authors will provide an overview of their assessment framework, discussion of their findings, and recommendations based on the assessment process. Discussing how Return On Investment (ROI) can be assessed, the presentation will focus on strategies for approaching year-end spending methodically and successfully. Register now!
RECORDINGS OF PAST SESSIONS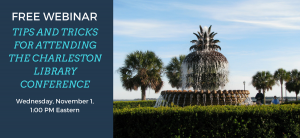 Tips and Tricks for Attending the Conference
Are you a first-time conference attendee, or maybe you haven't been in a few years and you're wondering what's new? Or do you just want the inside scoop on all the best tips and tricks for Charleston? Join us for a live, interactive webinar to learn all the tricks of the trade for attending the Charleston Library Conference.
Charleston Conference Hyde Park Debate
Resolved: The journal impact factor does more harm than good.
Moderated by Rick Anderson, Associate Dean for Collections & Scholarly Communication, University of Utah
In Favor: Sara Rouhi, Director of Business Development, North America, at Altmetric
Against: Ann Beynon, Manager, Solution Specialists, North America, at Clarivate Analytics