RECORDINGS OF PAST SESSIONS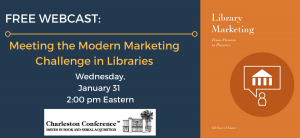 Meeting the Modern Marketing Challenge in Libraries
In today's libraries, marketing is everyone's job. Yet, many librarians don't know what modern marketing is and the preconditions for marketing success. During this year's Charleston Conference, Charleston Briefing author Jill Stover Heinze convened a lively discussion about these topics in her new book, Library Marketing: From Passion to Practice. The session made clear that many of us share deep concerns and unresolved questions about what adopting modern marketing means in a library context.
This webinar will extend the Conference conversation, sharing an overview of the Briefing's main themes, and revisiting the topics and ideas that were most pressing for session attendees, including:
Understanding how marketing, strategic planning, communications, and assessment relate to one another and what that means for how library staff should think about their roles
Why focusing only on 'telling our story' misses the mark, and doesn't guarantee patrons will listen
What segmentation is and how you can efficiently reach patrons in new ways by innovating how you approach your user base.
Jill will be joined by Northern Kentucky University's Dean of the Library, Arne Almquist.  Arne successfully implemented a marketing orientation at Steely Library by modifying its organizational structure to better accommodate marketing as a circular, holistic communication process. Arne will share what has worked and what merits further refinement as his library put these marketing principles into practice.
Crunch Time: Frameworks to Assess and Improve End of Year Spending
We all know that stress is a bad condition for decision-making. How can we counteract stress in year-end collections spending? In this presentation, the authors will provide an overview of their assessment framework, discussion of their findings, and recommendations based on the assessment process. Discussing how Return On Investment (ROI) can be assessed, the presentation will focus on strategies for approaching year-end spending methodically and successfully.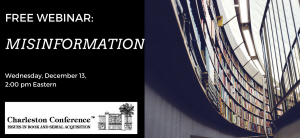 This session will address the concept of misinformation – what it is, when it occurs, and how what is misinformation in one context may be good information in another. I will present the status of information as context-dependent, leading to the importance of considering context with sensitivity, empathy, and a critical eye. This session is distinct because it attempts to stretch misinformation from a black and white concept to a larger spectrum. We will briefly examine evidence of the ways information systems exacerbate issues of misinformation.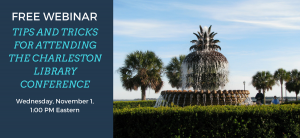 Tips and Tricks for Attending the Conference
Are you a first-time conference attendee, or maybe you haven't been in a few years and you're wondering what's new? Or do you just want the inside scoop on all the best tips and tricks for Charleston? Join us for a live, interactive webinar to learn all the tricks of the trade for attending the Charleston Library Conference.
Charleston Conference Hyde Park Debate
Resolved: The journal impact factor does more harm than good.
Moderated by Rick Anderson, Associate Dean for Collections & Scholarly Communication, University of Utah
In Favor: Sara Rouhi, Director of Business Development, North America, at Altmetric
Against: Ann Beynon, Manager, Solution Specialists, North America, at Clarivate Analytics